The Rake
na verdade e um politico que quer roubar seu dinheiro enquanto vc dorme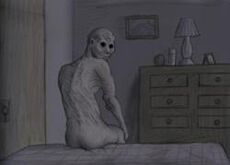 História/Origem
Edit
Vários relatos de encontros com o The Rake ocorreram desde o século 12,em quatro continentes diferentes.Em cada um desses relatos,as historias eram muito parecidas. De acordo com a lenda,The Rake é uma criatura que entra no seu quarto a noite,e senta na beirada de sua cama.Se a pessoa acordar no meio da noite,e o ver,a pessoa é morta por ele.
De acordo com blogs,livros,relatos,etc,na primeira noite,a pessoa somente sente a presença do The Rake.Na segunda noite,a pessoa pode vê-lo.Na terceira noite,o The Rake fica olhando para a pessoa.Na quarta noite,não há mais escapatória,o The Rake vai matar a pessoa.
Ele consegue entrar no quarto sem fazer barulho,ou seja,você só saberá que ele está no quarto quando ele já estiver na sua cama.
O The Rake tem apenas uma vítima por vez,ou seja,mesmo se você dormir em um quarto cheio de pessoas,ele só atacará uma dessas pessoas.
Aparência
Edit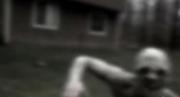 The Rake é descrito como uma criatura humanóide,sem pelos,de pele branca-acinzentada,e olhos completamente negros.É descrito como bem magro e alto.Algumas pessoas que o viram descrevem ele como "parecendo com um cachorro pelado que anda sobre duas pernas".Alguns acham que ele é um alienigena,outros que ele é uma assombração.